Halloween is without a doubt one of the best holidays — who doesn't want to dress up as someone completely different for a night? Whether you're going for scary or sweet, choosing a Halloween costume is a hard decision. To make it a little easier for you, here are some ideas for what attire you shouldn't don this Hallow's Eve.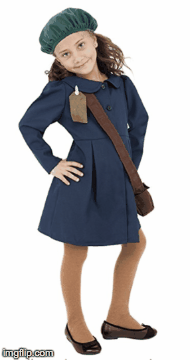 1.Ninja Absorber Sanitary Towel Costume with Tampon Nunchucks
There is already such an unnecessary taboo around pads and tampons — and periods in general — is this costume really called for? (Tampon nunchucks would be pretty cool, though, TBH.)
2.Groping Granny & Old Man Flasher Costumes
Jokes about sexual assault are never okay, but especially now in light of the recent Harvey Weinstein scandals, it's shocking that anyone would consider these acceptable costume ideas.
3.Lady Boy Costume
The fact that it's 2017 and transphobic costumes like this one are still sold is mind-blowing and completely unacceptable.
4. Mexico Will Pay Zip Up Costume Jumpsuit
With men like Donald Trump, who regularly engage in racist dialogue, in power, it's no wonder such culturally offensive costumes are being sold.
5.Adult Droopers Costume
Body-shaming and misogyny go together hand-in-hand in this distasteful get-up.
6.Restrained Convict Costume
This costume doesn't just mock mental disability, it goes one step further to poke fun at mentally ill prisoners, who are almost never given the correct standard of care. Lovely.
7.Men's Inflatable Ballerina Adult Costume
Yeah, there's nothing funny about fat-shaming — especially when it comes with elements of transphobia, too.
8.Anne Frank Costume
I feel like it's fairly obvious that the Holocaust should be off-limits for Halloween costumes… especially when it's directed towards young girls. Fail.
9.Adult Hobo Nightmare Costume
Homelessness is not a joke. It's that easy.
10.Deluxe Exotic Jewel of the East Costume
Does the name "Jewel of the East" not hint at how incredibly offensive this costume is? It's never funny to "dress up" in someone else's culture. Also, who picked that model?
11.Native American Seductress Costume
The name of the group being culturally appropriated is literally in the costume title. Native Americans, and indigenous peoples in general, have been through enough; leave them alone.
12.Dia De Los Beauty Costume
Unless you celebrate the Mexican holiday Dia de los Muertos, it's probably not okay for you to wear this costume.
13.Adult Womens Blue Sexy Geisha
Ah, yes — because there's nothing sexier than young women being forced to contort and sometimes use their bodies to please older men. Pass.
14.Sexy Shooter Happy Hour Costume
Happy hour is great, but using it as a costume idea to appropriate Mexican culture is not.
Also, as a side note, blackface is never okay. Happy haunting!